Regular price
Sale price
$18.00
Unit price
per
On Sale
Sold out
We only have 9 in stock!
Our flower pollen is nature's multivitamin, specially produced by our honeybees to help support you and your immune system. Our pollen is 100% edible. Bee pollen has anti-inflammatory benefits and delivers protein and Vitamin B to nourish and support your body. 80g jar
Ingredients

100% bee pollen from flowers on our farm
How to use

Sprinkle on your smoothie, toast, or oatmeal.
Shipping & Returns

Once your order is placed, it will take up to 3 business days to ship. Shipping times vary but typically take between 2-5 days.

If your order is over $100, shipping is free. Otherwise, it is a flat rate of $7.99.

If you are unhappy with your order, contact us within 60 days and we will gladly figure out a solution!
FAQ

What is bee pollen?—Bee pollen is the flower pollen that usually collects on the legs and bodies of bees. It may also contain nectar and bee saliva.

What is bee pollen used for?—Bee pollen can be used as a dietary supplement. It can help the immune system. If applied directly to the skin, it may also help speed healing.

What does bee pollen taste like?—The taste can vary slightly for every individual but it generally tastes sweet and flowery and maybe a bit bitter.

Is bee pollen safe if I am allergic to bees?—No, we do not recommend you take bee pollen if you are allergic to bees. It may cause a serious allergic reaction.

How do you collect bee pollen?—We collect the pollen by using something called a pollen trap at the entrance of a hive. The pollen trap gently scrapes off the pollen from the feet of the bees when it enters the hive. The health of our bees is our top priority so we only use this in moderation.

Share
View full details
No bees are harmed in the making of our products

Pesticide free and carefully harvested by our beekeepers

by a beekeeper in Merced, California.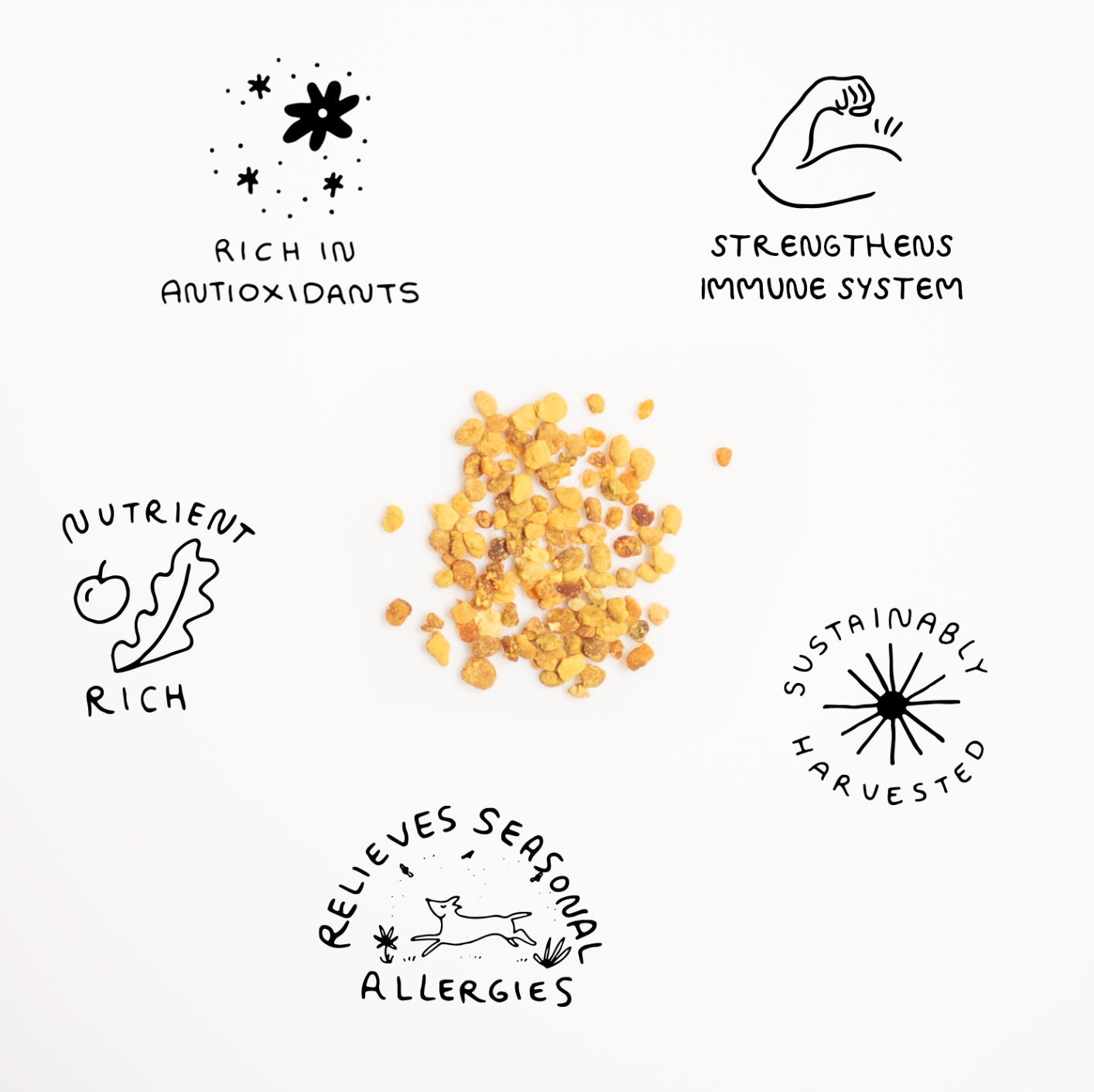 FLOWER POLLEN
Fun Fact: Bees are super pollinators and bring in pollen from a variety of flowers. In order for bees to create life they need to collect a large amount of pollen and nectar during springtime. Nectar is their source of carbohydrates and pollen is their source of protein. Bees pack their pollen on their legs and bring it home, mixing it with honey to create a fermented bee bread for their young.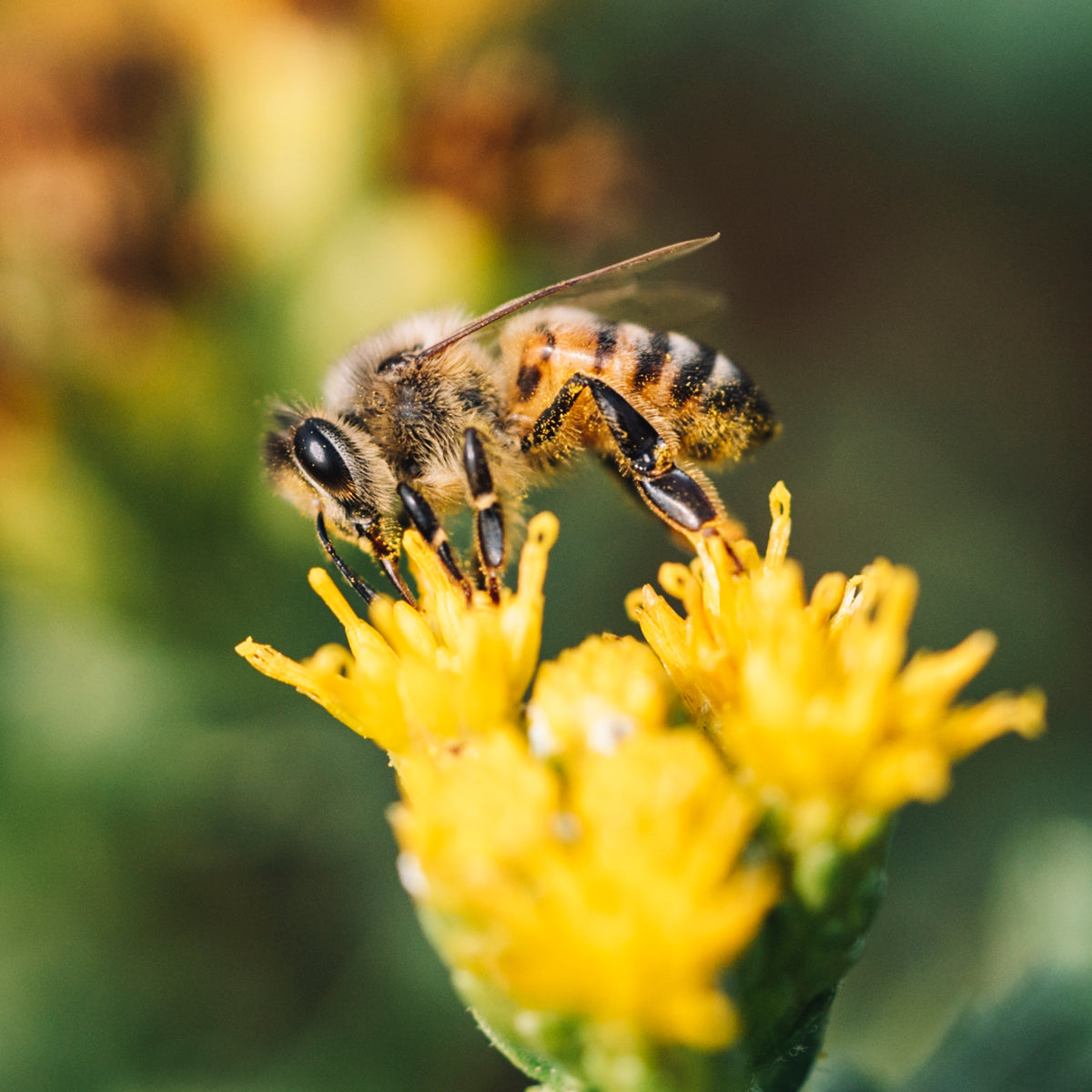 Our Process
We only collect a handful of pollen from our hives as to not disrupt the life cycle of our bees.
FAQs
Where do you source your honey and beeswax?

our honey and beeswax comes from our 10-acre farm in merced, california. OUr uncle's apiary in salinas, california, and from different apiaries we partner with in california.
What are your most popular products?

our top three selling products are our happy honey and strawberry birthday candles.
what makes our happy honey so special?

our honey is harvested thoughtfully and careful in small batches, we never take more than the bees can give, our honey is seasonal and every variety will vary in color, taste, texture, and smell.
Is your honey certified organic?

our honey is not certified organic. bees can fly out a radius of 3 miles from their hive. our farm is only 10 acres big and we unfortunately cannot fully control where all of our bees forage.